Doyle Designed Hair Care


My vision was to create a product line that would accommodate many types of hair textures. By combining less alcohol, and more silicones along with herbal nutrients I can address many textures of hair.
Hair, just like people have integrated and there are many product's that are either too heavy or too stiff for these textures of hair. With the new modern technology I have created a system of products for everyone, and intend to inspire individual and unique beauty.
Eugene Perma

For over 25 years Doyle Designed Salon has created beautiful hair color with the exclusive French Hair Color Line "Eugene Perma" Professional. Doyle's past experience with being an educator for Eugene Perma enables him to formulate unique color systems for every color client!

Since 1918 EUGENE PERMA Professionel offers innovative products that meet with the expectations of professional Hairdressers.

EUGENE PERMA's strength comes from how it draws success from a rich company history of an exclusive focus on hair care expertise, as well as its ability to adapt to the latest technological advances and fashion trends with a strong dose of legendary 'French touch'».Didier Martin, President of the EUGENE PERMA Group.
Olaplex Treatment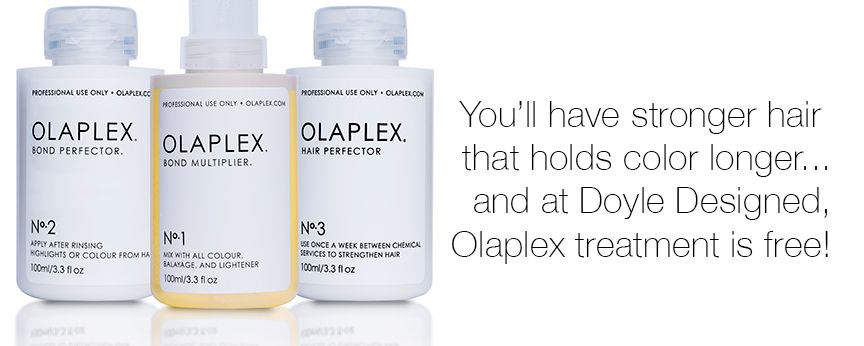 Doyle Sims, owner of Doyle Designed Salon and Education Center in Flossmoor, Illinois, is taking all the steps to make hair color gentler by incorporating a new system called Olaplex into their color systems. Basically, when you put chemicals in the hair — from coloring, or peroxide developers, or straightening treatments — the sulfur bonds split, and they then become sulfur hydrogen.
    
This process can eat away at the hair proteins, which causes damage. Olaplex prevents the splitting from happening. In short, it links broken bonds in the hair caused by chemical processes...preventing them from damage.
    
Many Salons are going to be "up charging" for this type of addition to a clients color service, but Doyle as usual is not going that route and will be adding the complex into many of their color processes just because he feels their clients deserve it!
 
Call Doyle Designed at 708-799-5758 for your next Hair color Service!